Even, correct, illuminate
Our Skin-Brightening range is certified vegan and harnesses the power of Vitamin C to achieve skin that glows with good health.

THE SCIENCE OF ANTIOXIDANTS
THE SCIENCE OF NATURAL INGREDIENTS
BUILD YOUR BRIGTENING REGIME
Melanin is the pigment responsible for our skin tone. Caused by exposure to UV rays, pollution, hormones, and the natural aging process, increased levels of melanin in the skin can lead to dark spots and uneven skin tone - all the hallmarks of pigmentation.

The best way to prevent pigmentation and brighten skin? Skincare with natural Vitamin C-rich ingredients and other antioxidants. These help to defend skin against the pollutants that lead to pigmentation.

Get 20% off full-size products in our Vitamin C Skin-Brightening range:
- Gospel Vitamin C Skin-Glow Gel Cleanser




- Glow Ritual Vitamin C Serum




- Kiwi Seed Gold Luminous Eye Cream




- Diem Vitamin C Pigment-Correcting Water Cream
T&Cs:
- Valid for full-size Gospel, Glow Ritual, Kiwi Seed Gold, and Diem only.




- Offer ends August 31.




- Not valid with any other offer.




- While stocks last.
The science of antioxidants
Build your brightening regime
Choose a creamy cleanser that replenishes your skin's natural hydration levels with nourishing oils
---
Follow with an intensive water-based serum to plump up skin and boost moisture levels
---
Lock in moisture with a cream or gel loaded with humectant-rich natural ingredients.
Products that also support brighter skin
Our Skin-Brightening range is designed for:
• Dull, lacklustre, & uneven skin tone




• Science seekers




• Conscious devotees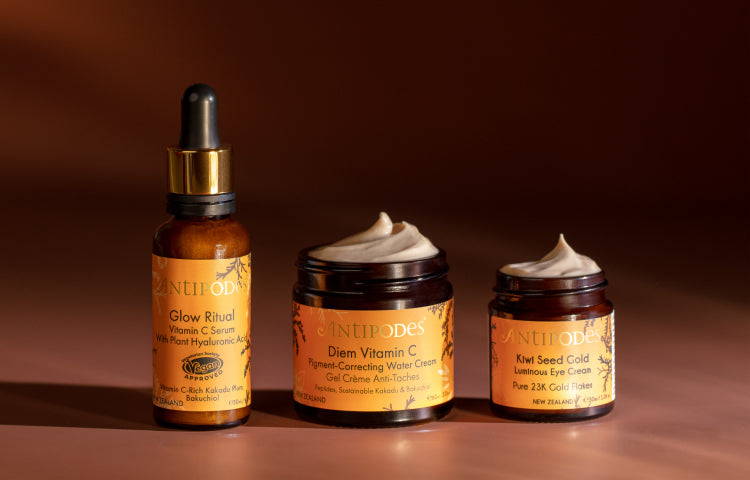 Glow Ritual Vitamin C Serum
"Feels like magic, very nourishing and luxurious."
KATHERINE ANTIPODESNATURE.COM
---